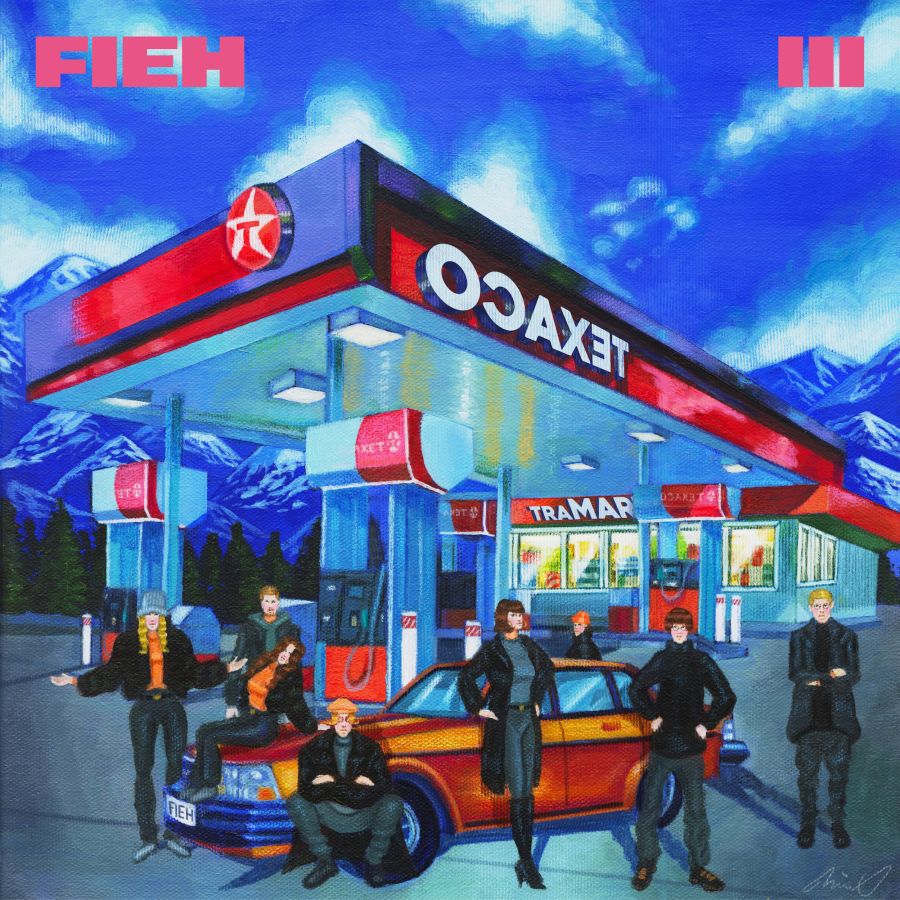 Label:
LP LTD (Pink):
Catalog number:
JANSEN146LPLTD
LP (Purple):
Catalog number:
JANSEN146LP
CD:
Catalog number:
JANSEN146CD
Info:
Fieh returns with their third studio album, III, once more leaving an impression by representing the front line of the Norwegian "future soul" scene. Immediately after the success with their previous album In the Sun in the Rain the octet was back in the studio. Like an eight-headed genius impressing us with catchy compositions and lyrics, they also produced the album themselves.

With Steve Lacey, Anderson Paak, Bootsy Collins, Gorillaz, Sharon Jones and Amy Winehouse being the inspirations behind the album, we get a hint of which soundscapes shape the album. Fieh, fronted by Sofie Tollefsbøl accompanied by the proficient musicians Jørgen Kasbo (guitar), Ola Øverby (drums), Kai von der Lippe (keyboards), Solveig Wang (synth and backing vocals), Lyder Øvreås Røed (trumpet, percussion, and horn arrangement), Andreas Rukan (bass) and Thea Arnesdotter (backing vocals), has once again created funk songs with great hit potential, and this time with a harder and somewhat meaner sound.

Behind groovy compositions, catchy beats, writer, and lead vocalist Sofie Tollefsbøl uncovers concerns and deeper questions with her raw and versatile voice - delicate and tender in one moment and domineering in the next.

III embodies love in all its colors, life as a musician, grief, alcohol, traveling and ambitions. The songs "Full Time (Part Time Allthetime)" and "My Dream" describe the life as a musician where goals and dreams are fundamental to carry on. The single "Texas Baby" was written when Fieh was on their way to the South by Southwest festival in Texas where a hint of surrealism hit the band. The album's lyrical depth and sometimes melancholic themes are often concealed by a lively tempo, but some tracks welcome a slower beat as a graceful variation. As an example - the ballad "Daylight", a sensitive song about existential despair that culminates in a beautiful and shaky guitar solo, contributes to a genuine, heartfelt summary of III.

Fieh emerged with the breakthrough single "Glu" in 2017. They quickly rose to local and international fame, thanks to broad support from the likes of Clash Magazine, DIY Magazine, and The Fader, among others. Widespread touring took them to venues all over Europe, including the main stage at Norway's biggest festival, Øyafestivalen in both 2018 and 2022.

Through music videos, press photos, styling, artwork, and scenography the band's striking creative and colorful expression has become unmistakable through the years. Continuing this path, the artwork for their upcoming album is made by Darius Moreno known from GoldLink's previous cover.

III will be released on Jansen Records on September 15th, 2023.
Tracklist:
SIDE A
1.   Full Time (Part Time Allthetime)
2.   Judy Law
3.   Supergud
4.   Inbox
5.   Band Aid
6.   Texas Baby

SIDE B
7.  Streamline
8.  Drinking Again
9.  Munni in the Microwave
10. A.T.T.
11. My Dream
12. Daylight